Filter by Category
Guitar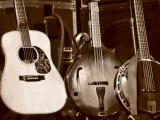 Registration Unavailable
Learning to Jam
with Adam Lowe

Sep 14, 2022 at 7 pm

, runs for 13 weeks
Take your instrument skills to the next level by learning traditional Old-Time tunes of Surry County and the region. Co-teachers Adam and Mecca Lowe (who also head up the Elkin JAM) are experts in local traditional music, and will share their knowledge with students. Singers are also welcome in this class, though not every song will have lyrics.
The class has 12 sessions over 13 weeks. There are no classes the week of Thanksgiving. This is considered an adult class. Students ages 12+ are welcome as long as they are able to participate at an adult level during the class.
Please email info@reevesmusic.org with any accessibility requests upon registration, and with general questions. Full refunds minus processing fees are available up to one week before class begins only. Payment plans and scholarships are available—feel free to register and select "Pay by check," then email us for specifics. Want to sponsor another student? Your tax-deductible donation can help fund scholarships and make music classes accessible to all!
REQUIRED MATERIALS: Instrument of choice, notebook & pencil, recording device (such as a smart phone).